BIM: Standard and certified IFC export and import and direct Revit RFA, RVT import
Import PDF geometry
Excel file import
Tiling in 3D
Mosaic tiling
LED light strips
Material settings – New categories, special materials
Integrated render window and real-time rendering
Printing layout developments
4K monitors – scaling the interface
Panorama 360 – Virtual tour
Designing 3D shapes
[spacer height="30px"]
We know customers and they can be fascinated with visual plans. We continuously focus on improving the visualization. The following new features will support creating more realistic renderings:
[spacer height="30px"]
LED LIGHT STRIPS
LED light strips are brilliant tools for decorative and hidden light representation. LED light strip is a generic term used to describe a group of LED light sources of variable length. These lights sources can be placed simply in 2D/3D in ARCHLine.XP and editing their properties is very flexible. With this function LED light strips can be placed fast and easy to any spatial directions. It can be used as the inner lighting of types of furniture, as background lighting, in arbitrary color with arbitrary brightness. On the rendered image the visualization of light happens with emissive material properties. You can work with high level of quality, precision and material accuracy.
[spacer height="20px"]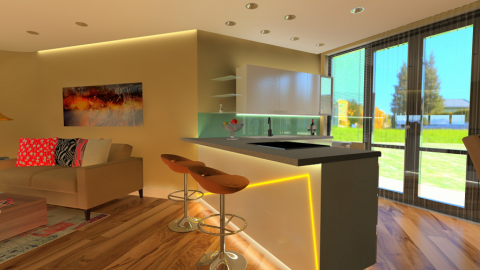 [spacer height="30px"]
REAL-TIME RENDERING
The Real-time rendering is a new approach in the rendered image visualisation. It supports to find the best final rendering settings. It speeds up making a high-quality photo-realistic view just in a few steps in ARCHLine.XP. Real-time rendering immediately gives a response to the followings:
Fine tuning of the perspective viewpoint is visualized automatically
Turning lights of/off: interactive light settings
Materials: changes of material settings become visible immediately
Displaying the render frame
It can be easily identified anytime that part of the 3D view which will be presented on the final rendered visual plan – based on the given resolution in the render window. This area is inside of a dashed frame in the 3D view.
[spacer height="20px"]