Enscape 3D New Features and Settings…
Custom Asset Library
You already have access to over 2,000 stunning assets that are ready to drop into your scenes. But there may be times when you have a specific object or person that you need to utilize.
With the new Custom Asset Library, you can import your own models into Enscape and start to create personalized design experiences. Whether you wish to use bespoke furniture, branded items, or even a specific species of tree within your visualizations – it's now possible with Enscape 2.9!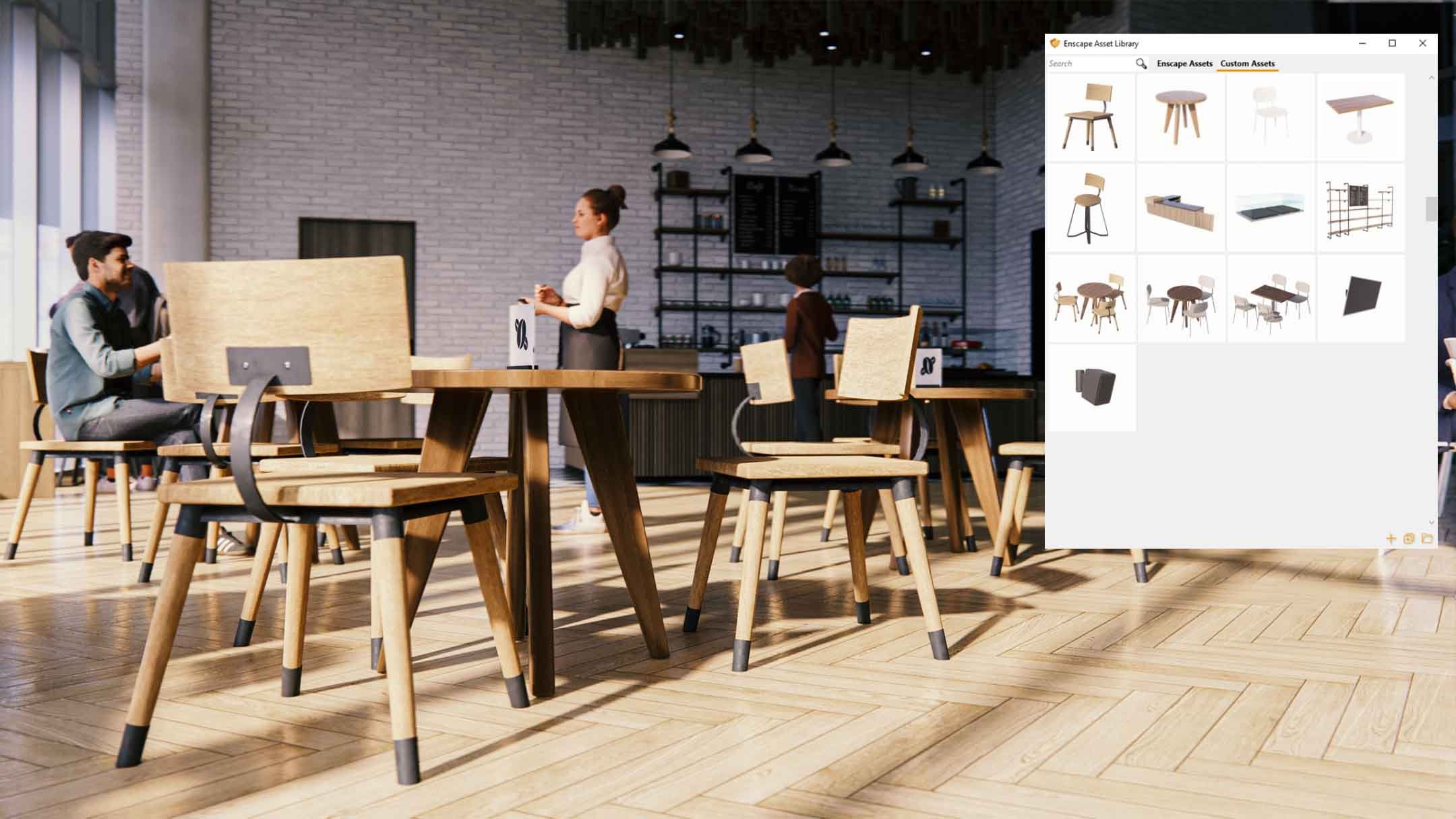 This expert feature can be accessed via the original Enscape Asset Library, in the new Custom Assets tab. It is possible to import single or multiple models with a file format of OBJ, FBX, and GLTF. These models can then be edited from within the Asset Library once they have been uploaded into Enscape.
You can also try importing models from sites such as SketchUp's 3D Warehouse, Free3D, CGTrader, and TurboSquid as long as they are in one of the supported file formats listed above, and have a poly count no greater than 20k (although please note, we cannot guarantee the compatibility of all third-party models).
Being able to have your own object library has been one of the most-requested features from the Enscape community, and we're excited that we can now support custom assets in Enscape to help you create one-of-a-kind renders and experiences.
Creating and editing custom assets just got a whole lot easier! Assets from the SketchUp Warehouse that used to take me hours to convert to Enscape assets can now be imported in minutes!

Pieter Schiettecatte, Associate Director of Design Technology, Architecture Plus Information
Video Textures
Our new animated video textures (which we're particularly excited about!), will help you to introduce more unique elements and experiences to your design.  
Imagine an interior living space or office with a working TV, or an urban scene with large digital displays like you see at London's Piccadilly Circus, New York's Times Square, and the Las Vegas Strip. With Enscape's video textures, you can fill your projects with a new level of animation together with the perfect illumination.
By adding a video texture to a surface, your TVs, monitors, and large out-of-home digital displays can showcase your video animations at day and night, on a continuous loop.
SketchUp, Vectorworks, Rhino, and ArchiCAD users can assign video textures to the 'Albedo' texture via the Enscape Materials Editor. Currently, .mp4, .mpg, .m2v, .3gp, .avi, .mov, and .mk file formats are supported. To see an animated texture in Enscape, you will need to be moving – so in walkthrough or flythrough mode, watching an animation or in virtual reality, unless you disable the rest mode which would then allow for animations to continue even when the user stops moving. To turn off rest mode, go to General Settings > Performance.
For Revit users, there is a workaround which involves adding text regarding the material that you wish to use a video texture with, to the Revit Material Editor's Description field:
[video:<path>|<X>|<Y>|<rotation>].

Replace the fields above with:
<video> = the absolute path to the video file
<X> and <Y> = a multiplier outlining the texture scaling (X * width, Y * height)
<rotation> = the desired texture rotation (0 – 360)
For example: [video:C:\test\vid_texture.mp4|0.5|1|90]

This video tutorial from a member of the Enscape community shows how to implement video textures in Revit.
Displacement Maps
Displacement maps in Enscape will give your surfaces a greater sense of depth and definition.
Your surface textures will appear even more realistic and will automatically include self-shadowing, without you having to make specific changes within your model. Think cobbled streets, tiled roofs, and beautiful brick walls with a tremendous level of realism.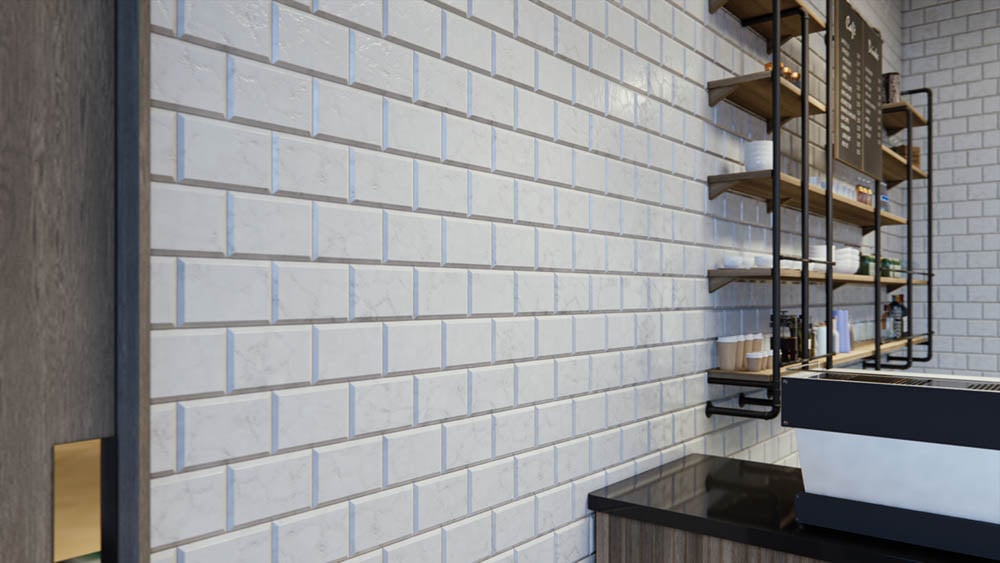 Normal, bump, and displacement maps can be accessed via the Enscape Material Editor, under 'Type' in the group 'Height'. This appears once you have uploaded a displacement texture.
For Revit, you will need to go to the Revit Material Editor, where you'll need to increase the bump value to over 500 in order to utilize the displacement maps.
Displacement mapping was a long-awaited feature request by our community of visualization experts. With Enscape 2.9 we're happy to ship not only a fast, state-of-the-art solution that looks great even up close, but that is also easy to use for everyone without any model preparation steps required.
Clemens Musterle, Team Lead, Enscape Rendering Development
Fitness Assets
A new release would not be complete without the addition of new assets, which this time, is a fitness-themed asset package that consists of 119 sport-related items in total.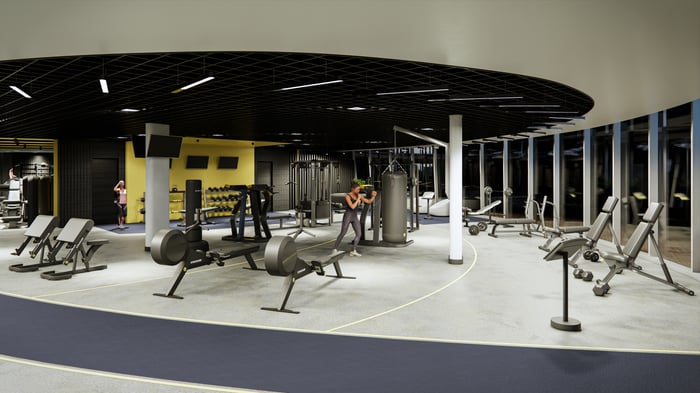 Our design team has created an incredible array of gym equipment and accessories, plus a collection of active people who you can use in your fitness studios, parks, outside gyms, and anywhere else you may wish to feature such activities.
In addition to this fitness package, you will also find 175 new assets, including new people, accessories, vehicles, lighting, and furniture, bringing the total number of Enscape assets to over 2,000! Every one of Enscape's assets is created to an extremely high standard and always with the end performance in mind, to help your project look and work just the way it should.
The fitness asset package can be accessed from within the Enscape Asset Library itself. For more information on how to access and use the Enscape Asset Library, check out this article.
Vectorworks 2021 Support
Following a successful Beta, Enscape is now supporting Vectorworks 2020 and 2021, allowing users to rapidly create renders in real time and benefit from virtual reality to help improve the entire design workflow and review process.

Vectorworks users can utilize all of the features that are available with Enscape – including the integrated Asset Library which contains over 2,000 ready-to-use models, Materials Editor, Collaborative Annotations, the various export functions, video editor, and of course, VR.  
For more information on how to get started with Enscape and Vectorworks, watch this tutorial:

Additional New Features in Enscape 2.9:
Offline Asset Library: Access assets when you're working offline. Simply download the assets one time and you'll be able to store them locally – making them always accessible, whether you're connected to the internet or not.
Localized EXE standalones: Allow your clients to review EXE standalone files in the language of their operating system, helping to ensure that language is never a barrier.
Rest Mode disable feature: See continuous animations, even if you're not active in Enscape. This setting can be found in General Settings > Performance.
Enscape 14 Day Trial or Update